I've done some more online browsing in the last couple of days, to get a feel for what's out there this season in terms of midi skirts. I checked: White house black market, Express, Ann Taylor, Ann Taylor Loft, Limited, Zara, Mango, New York and Company, Old Navy, Gap, Banana Republic, Target, Macy's, Nordstrom's.
Gap and Old Navy are doing a very sloppy casual (boho?) take on the midi. Everyone else is going more polished.
It looks like there are a lot of great midi pencil skirts in all sorts of solids and prints. Almost every store had some. Many do not have vents, especially the cheaper ones, to help create a super-slim look, but are instead made of stretchy fabric so you can still walk. I've had several skirts like that over the years and loved them - my main warning is to make sure the fabric is thick enough to be forgiving and/or that the skirt is lined (with a stretchy lining). Otherwise I know on me - a very stretchy very tight skirt makes me look lumpy. I recently returned a skirt to WHBM for that reason.
The super-full circle skirts (very 50's) that are "in" from a high fashion perspective (check the last couple issues of Vogue) do not seem to have hit any stores or lines below about $400 per skirt, not even Zara or Mango. I don't know if they will show up in a few months, or if these stores have decided that they are just too hard to wear. The mainstream versions seem to be either more A-line skirts, pleated skirts (either narrow chiffon pleats or wider cotton or silk-look box pleats), or shorter knee-length full/circle skirts. (And I do agree that the midi full circle skirt in a stiff fabric is hard to wear, and will look odd in most places (outside New York, Paris, Milan, and a few other cities), but it is such a cute and dramatic look that I'm a little sad I won't be able to buy myself one at a low price. They are *very* similar to what my mom used to wear back when she was young though - so maybe she still has a few around. :) )
Here are a few of my favorites based on pics online, and I think these cover the full spectrum of what's out there right now:
This one
($59 full price, and they usually do sell at full price), from
Zara's midi skirts
(they have others that are nice - A-line and pencil):
This one
($110 full price - but they always have coupons) from WHBM, and they have it in petite, (even regular probably wouldn't be midi length on me, but I'm guessing it would be just barely below the knee on someone with more normal length legs, which would be the most flattering way to wear the style anyway):
This one
($98 full price - but they have occasional 40% off full price sales) from Banana Republic. This would be more flattering on a lot of women than the tight pencil or the full circle skirt, but is still elegant, versatile and current. It will look way better on a woman with hips/curves than it does on the model (and just as bad on me as on the model). I love this color as a spring neutral.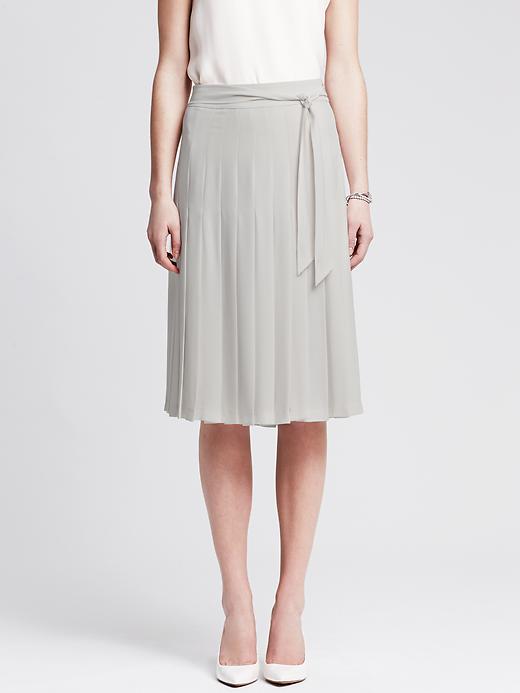 There were also several nice looking ones, both pencil/tube and fuller skirts, from
Target's skirts
. However I couldn't get the pics to work on the blog. Target had some especially great prints, and obviously lower prices. It would probably be worth going to the store to see quality first-hand though - it is Target.