I took a couple of hours Friday afternoon to go to the mall. I basically have 3 options for mall shopping near me - South Coast Plaza which is world famous for it's high-end stores and is an actual tourist destination for Asian shopper/travelers, Fashion Island which has mid-to-high-end stores and is sunny, open and outdoors, and just super "OC" (the department stores are Nordstroms, Neiman Marcus, and Bloomingdales, the mall shops include several high-end-yoga-wear stores, and most of the women are wearing heels, highlighted blow-outs, and fake boobs), and a super-cheap low-end mall which is just a tad ghetto. I decided to go to the ghetto mall. :)
DSW has restocked the
BCBG Paris Darron pump
!!! I love love love this pump. It is so gorgeous. They have it back in the black that I own, as well as other colors. It is so cool looking with the straps and studs, but still so leg-lengthening because the straps are a neutral. It is almost as gorgeous as the Valentino Rockstud pumps, but less than 1/10th the price.
(From a recent post, here's the Darron on me:
AND,
they have flats (Annia)
! I only found these online, not in store, but I had been hoping BCBG would come out with something like this. But I still have to decide if I want these. I love the heels, but I'm not sure how much I would wear the flats... Usually when I'm wearing flats I want comfort and convenience - but I do love my ankle-strap flats and get a good amount of use out of them for work and toddler b-day parties.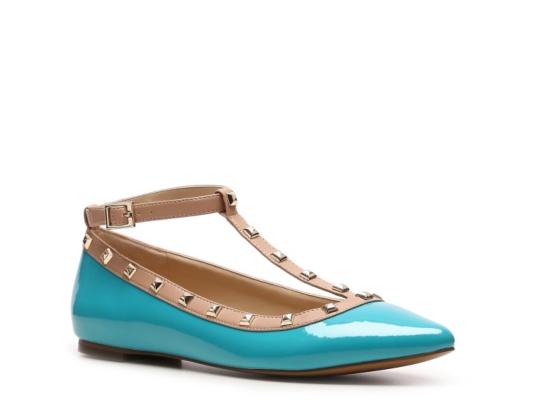 I also ventured into Sears and JC Penney, which I hadn't done in years. I have a few items in my closet from those stores which I love. I have to say, the quality was pretty awful at both stores. But there were a few cute things in the juniors' departments. I ended up buying one pretty/cute top, in a gorgeous color, for $5 from Sears. I can accept low quality when it looks good and costs only $5. If I get 2 wears out of it, I'll be happy.
And I found kids' clothes! It's hard to find nice skinny-fit pants for toddler boys and, really, who is going to dress their sons in regular-fit pants? ;) I had never seen this store before, but there's a store called Crazy 8 that is apparently owned by the same parent company as Gymboree. The clothing was quite a bit less expensive. I think the fabrics are cheaper (Crazy 8 is to Gymboree as Old Navy is to Gap), so they probably won't last as long, but I decided to buy a few items anyway - skinny fit toddler boy pants are hard to find at any price point!